SAN JOSÉ MAYORAL CANDIDATE FORUM – OCTOBER 24, 2022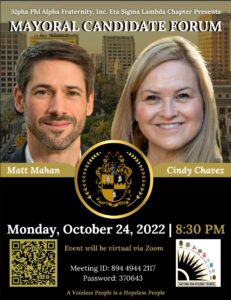 Link to recording is available here.
~~~~~~
A Voteless People is a Hopeless People has been one of Alpha's core beliefs since the 1930's when many had the right to vote but were prevented from doing so because of poll taxes, threats of reprisal, and lack of education about the voting process.
Voter awareness and empowerment have been a primary focus ever since, with Alpha chapters worldwide providing information and hosting events such as town halls and candidate forums to engage and educate as many as possible in this important process that has such a major impact on their lives. 
It is with this history and purpose, that we invite you to attend this engaging and informative event featuring two dynamic individuals. One of which will be elected to serve as the next mayor of San José!